Chao, an operator opened a massage chair store in Vietnam. With his peerless efforts to excel in his business, within a short span, his massage chair store became famous in Vietnam resulting in high sales.
A major issue that he faced was customer's confusion and queries about the usage of massage chairs.
Many customers called a few days after the sale to ask questions about the use of massage chairs. Chao thought that his chair's manual is edited and proofread, but it was not. The Vietnamese translation of the manual was also not accurate, so it led to a surge of after-sales calls and increased workload.
A product manual is the only valuable asset that can save you from such issues. It is both essential for customers and a product's reputation. The clearer your product manual will be, the easier it will be for people to understand it and operate your product. A proper written and proofread manual will result in high sales as it'll enhance the buying experience of your product.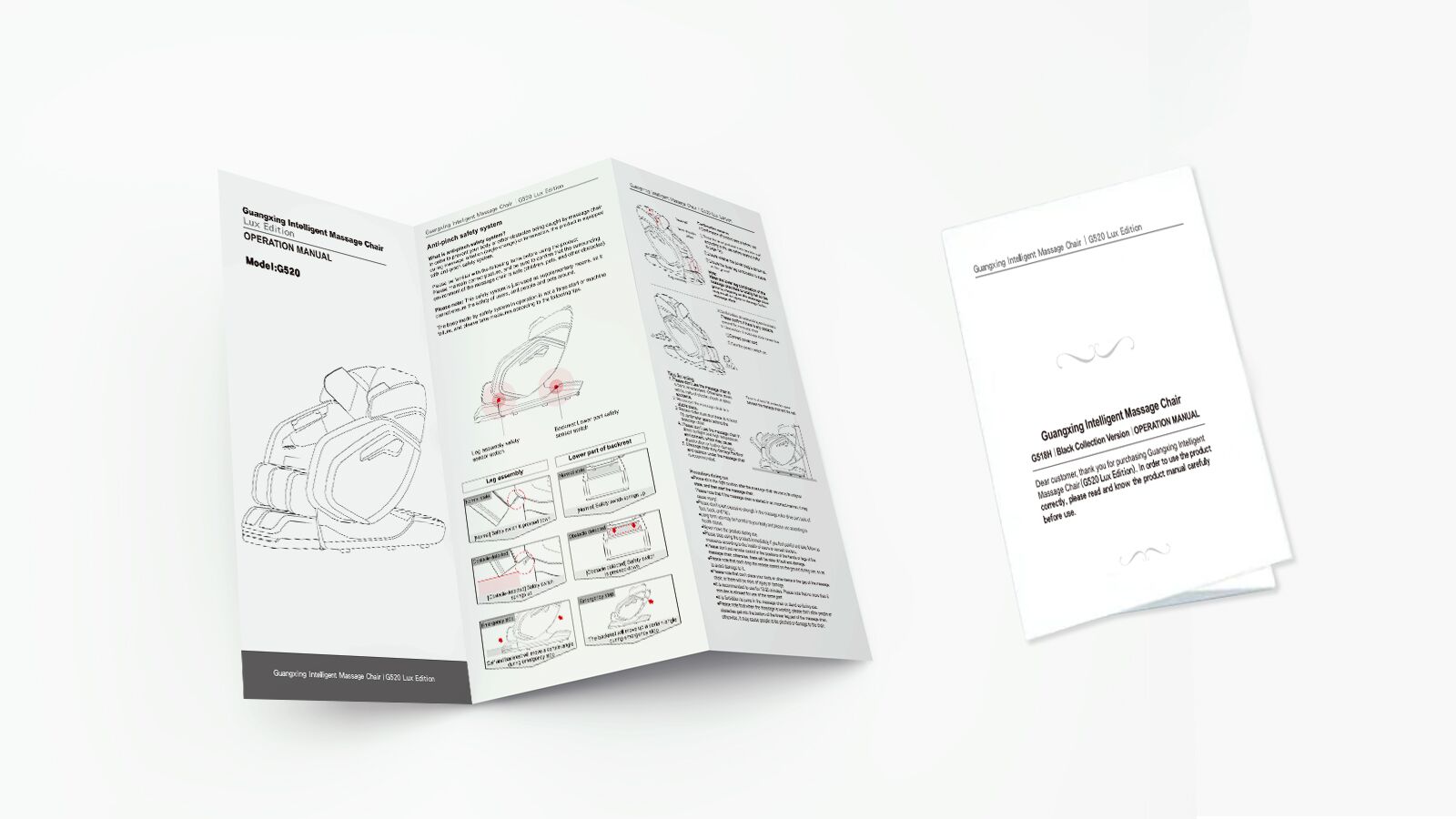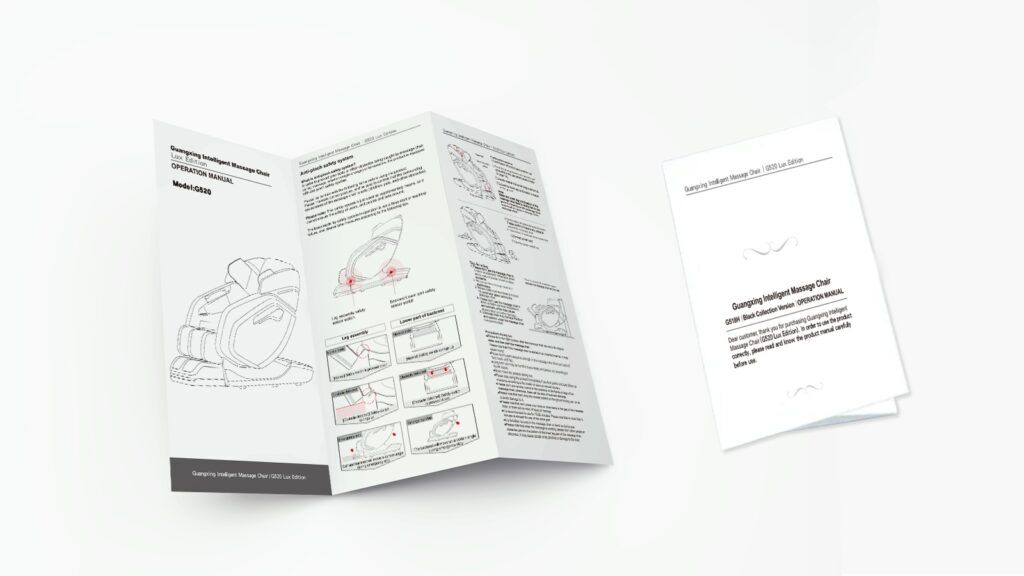 A compelling and detailed manual of massage chairs is the only thing that'll express the right value of your chairs. We've compiled a complete guide for you. Now you can increase your sales by 10x through this guide.
How to write a standard massage chair manual?
Ensure that your massage chair manual is explanatory and easy to understand for customers. There are a few standard principles to follow while preparing it.
5 Basic Manual Writing Principles:
There are 5 vital principles that you should consider while getting your massage chair manual prepared.
Uniformity
Logicality
Accuracy
Practicality
Integrity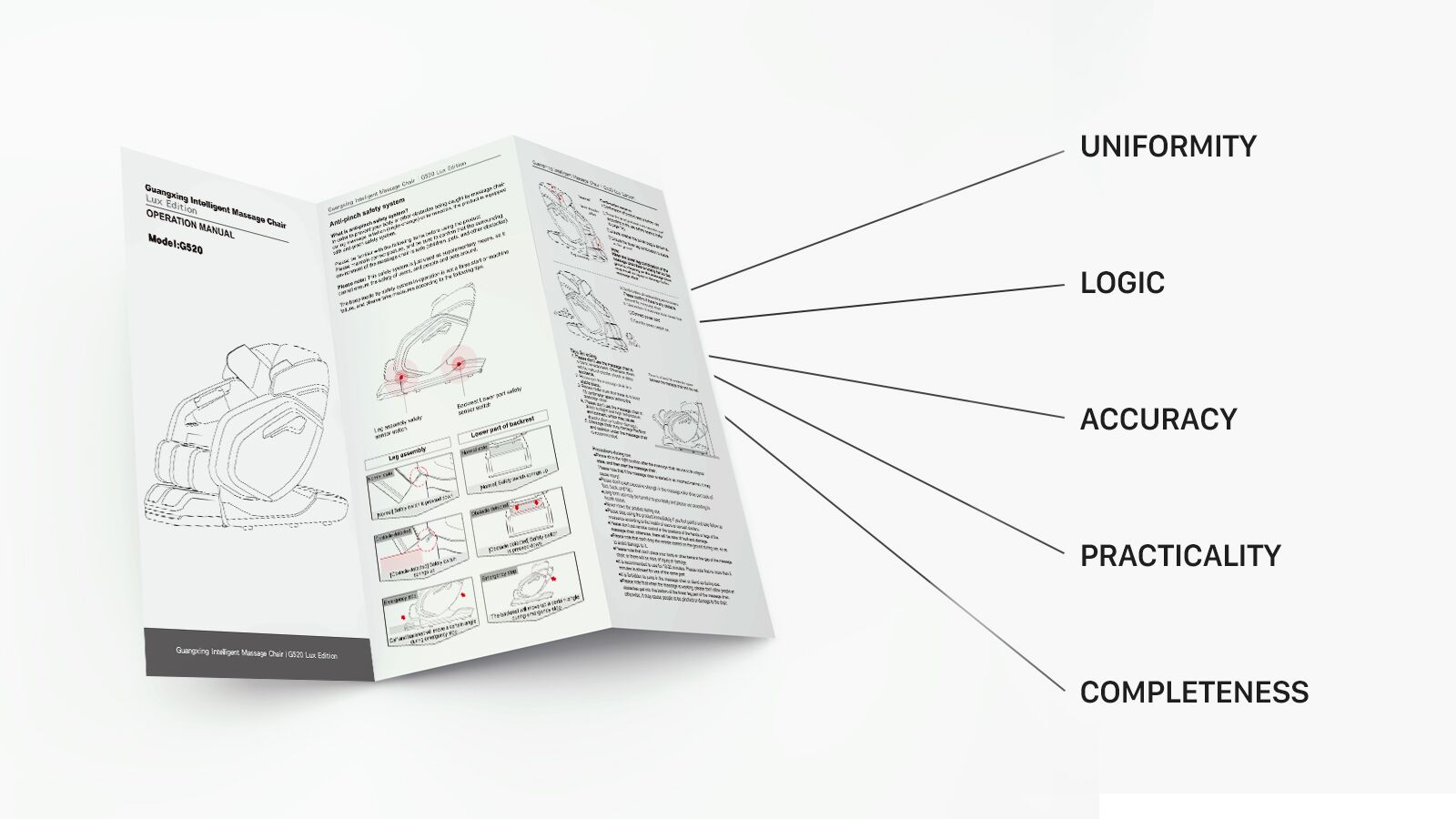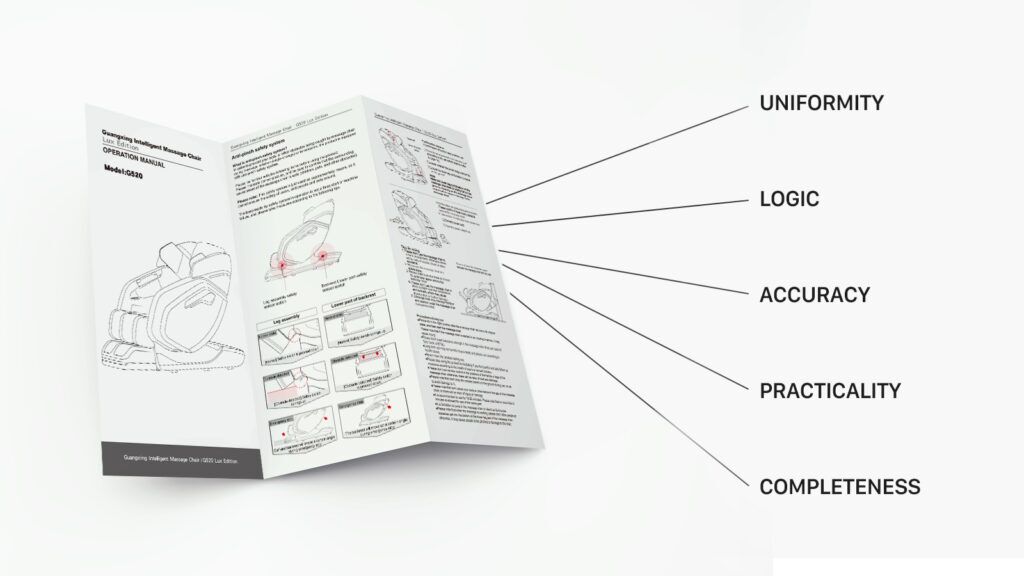 Uniformity:
Uniformity is referred to consistency. Always stay consistent while preparing a manual for your product. Make sure the same style is used in the entire manual. Don't mix up sentences and notes in your manual. Make sure to pick any one of them and follow it throughout the manual. Using proper and same grammatical structure in the whole manual is also referred to as uniformity.
Logicality:
Logicality means you must put in some valid reasons in your manual to convince the user to use your massage chair. If the customer will not find specific reasons and authentic value of a product, why would we even use it!
Accuracy:
Manual gives the first impression of your product to the customer. So, keep it pure and authentic. Try to avoid all fake philosophies from using in our manuals. The more accurate information your manual will give, the better will be the impression of your product.
Practicality:
Mentioning the proper instructions for the practical use of the product is the most important principle of a manual.
Highlight the practical use of a massage chair in your manual because it is what your customers are looking for.
Integrity:
According to Dr. Catherine Kelly, it's vital to use integrity while writing a manual. Integrity allows the writer to mention his thoughts and voice in the manual. This helps the readers understand the topic in a better way.
The Fundamental Content Parts to Include in your Manual:
The four basic content sections that a massage chair manual need is:
Product Description
Product Features
Product Configuration
Product Usage Instructions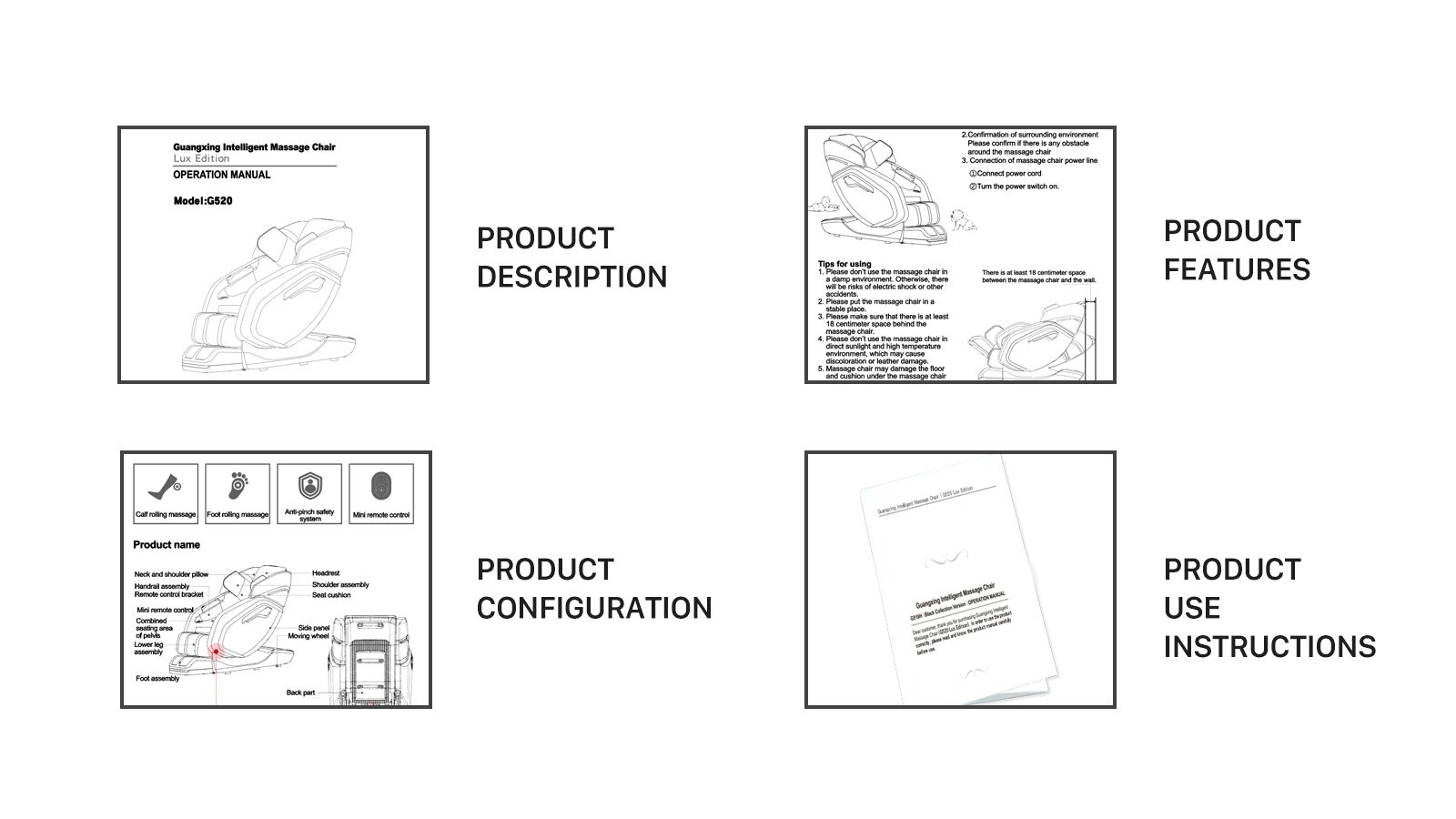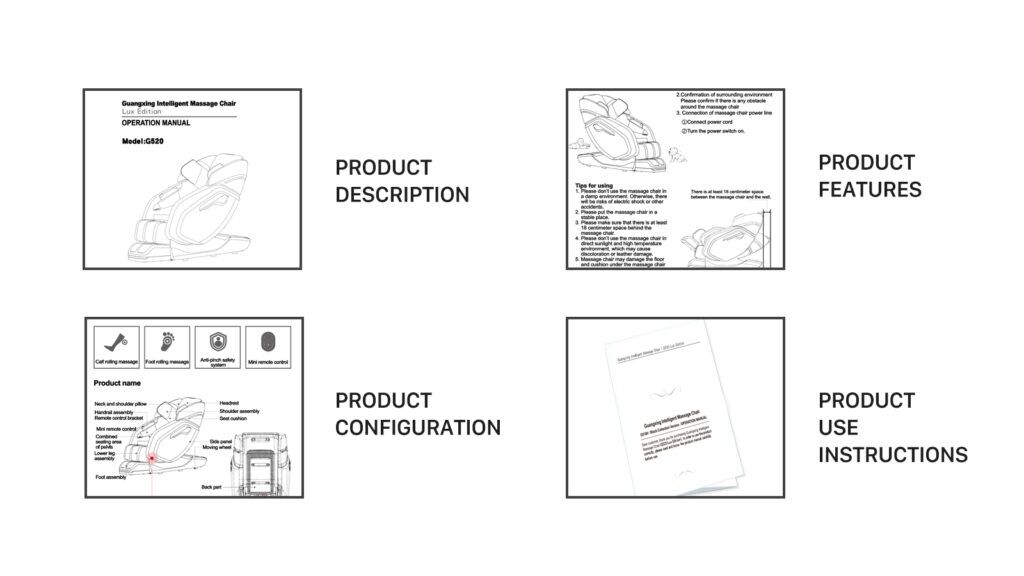 Product Description:
A product description is a brief yet expressive detail about the massage chair. It explains everything in short about a massage chair. Massage chair benefits, importance, and effects; all they come in a product description.
Product Features:
Now the manual should contain product features in this section. Write and explain all the features of a massage chair in detail. Explain the importance and benefit of each feature.
Product Configuration:
According to Science Direct, the product configuration is necessary to assemble the product. Mention the details about product configuration in the third section of the manual. It helps customers understand how a massage chair is designed to tailor their needs.
Product Usage Instructions:
The last part is also as important as others. It is the main part after benefits that customers usually look for in a manual. Explain each step from first to last in detail to ensure the customer gets his answer.
After this section, the customers should be able to use and operate the massage chair without any hurdles.
3 Cautions for Writing a Manual:
Satisfying customers is every seller's number one priority. So, to please your customers, you must prepare a manual based on our given instructions. The 3 secret tips that will make your manual stand out from others and easy to read and understand for customers are: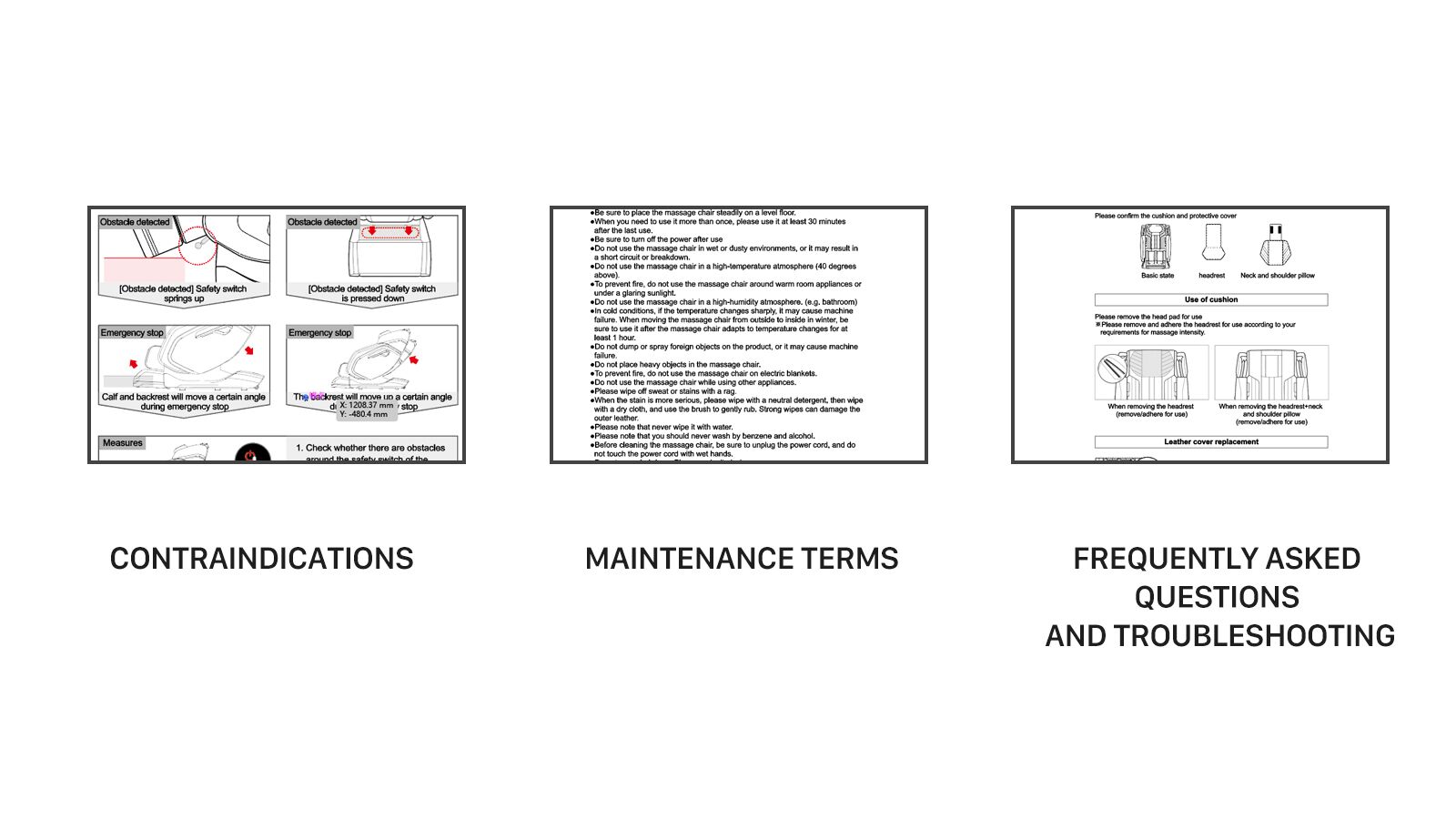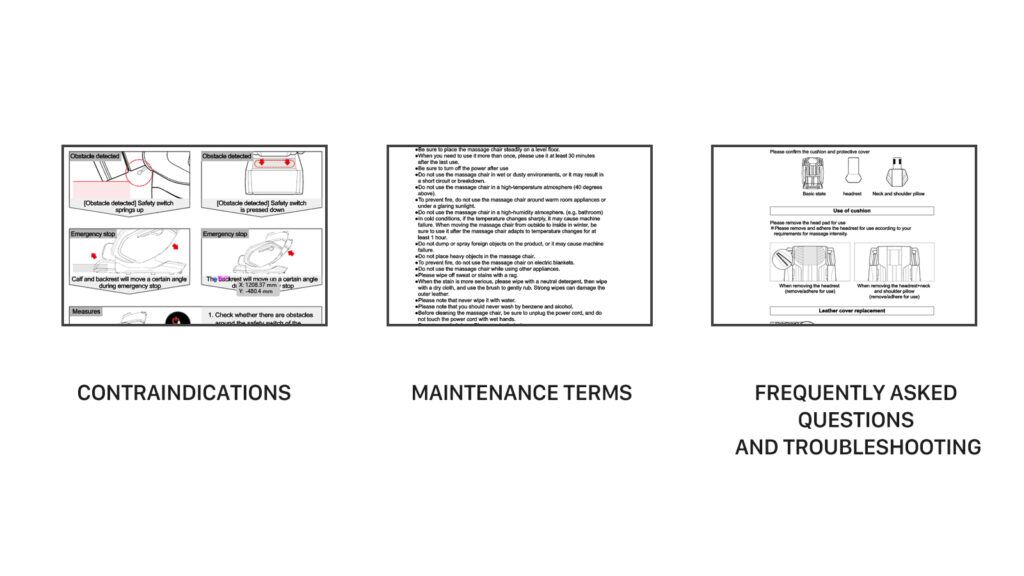 Use Contraindications in your manual. According to Medline Plus, contraindications are essential. They should be mentioned to ensure that customers are aware of them before using a massage chair.
Mention the maintenance terms in your product manual. These are also necessary for a customer to know along with all other factors.
Write FAQs and Troubleshooting Guidelines. These are also another way to clarify any queries and confusion of the readers. With troubleshooting guidelines, the reader will know how to recover from a sudden issue in a massage chair.
Presentation of the Manual:
Presentation always matters whether you're presenting your product or its manual. Manual is a written guide. You need to make sure that your manual is compelling enough to catch the reader's attention within 5 seconds.
Here are four fundamentals of presentation:
Proper Cover and Title Page
Magnified and Readable font
Attractive Typographic Layout
High-Quality Binding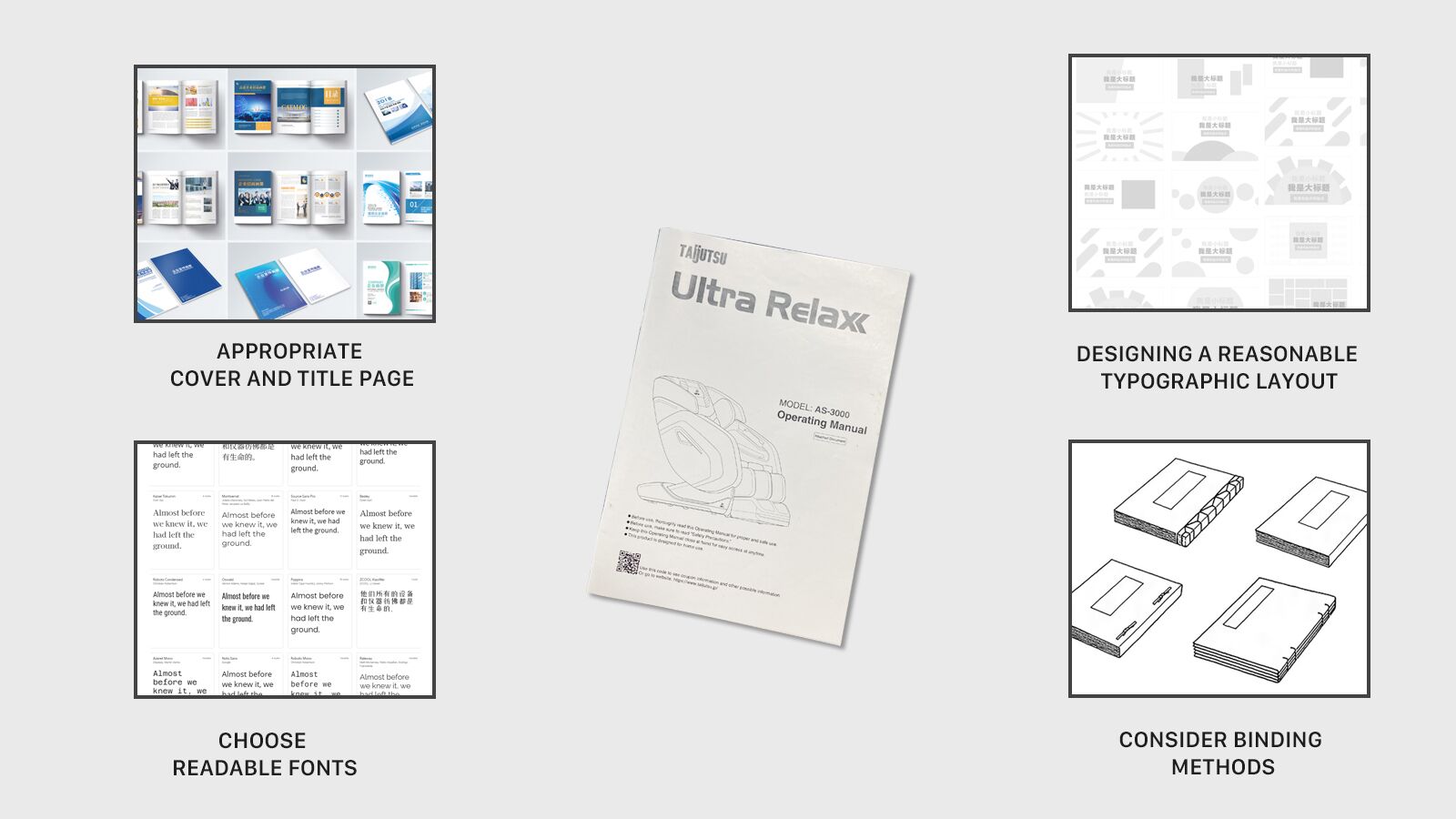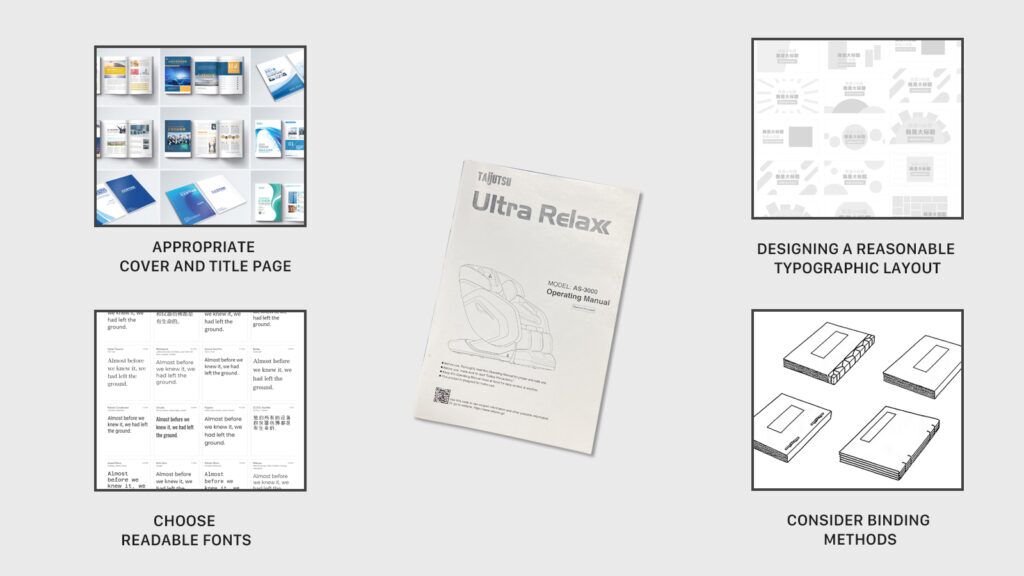 The first part of a presentation is a proper cover and a title page. Your massage chair's manual should have a neat and clear cover and title page as it'll be the first thing with which the user will interact.
The font of the manual should be the same throughout the manual. It makes the content easier to be understood by the reader. Keep headings prominent and bold in the same font. Give a different font to your inner content as well.
Attractive Typographic Layout:
The design of the content and paper should be well aligned. Proper framed content attracts users and leaves a better impression on them. It also makes the content readable.
Binding may be the last of the presentation fundamentals, but it still has value. You cannot ignore this factor. Good binding of the manual will prevent the book from tearing apart. This will keep your manual safe and secure in every hand.
Better Quality Manual means More Sales!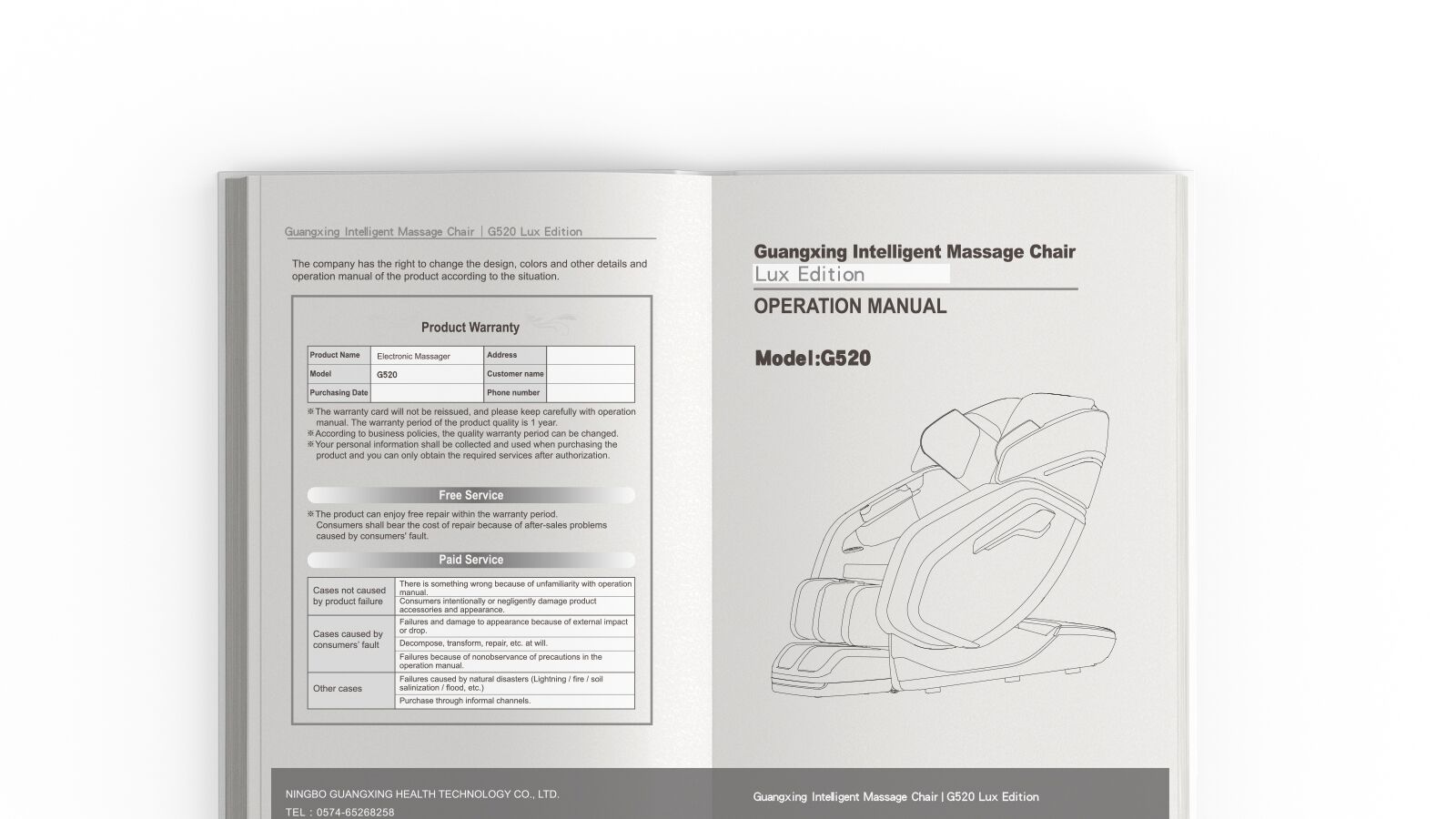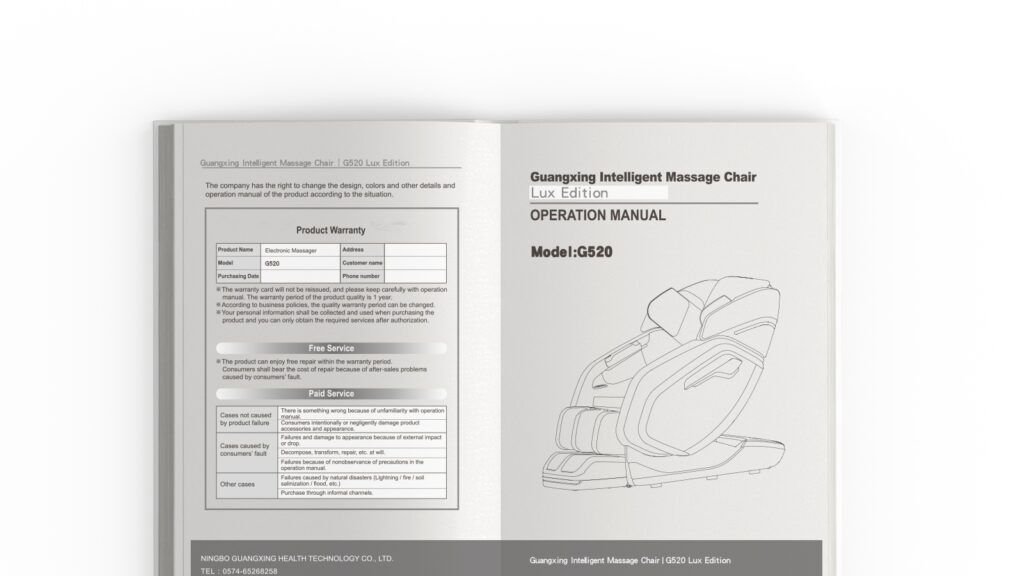 In this article, we've highlighted the importance of a proper written and edited manual. Manual is the key to use your massage chairs. So, make sure to keep it short, authentic, and alluring. Say everything in your manual about your chairs in concise content. This is copywriting! The compelling your manual's copy will be, the easier it'll be for the user to understand your massage chair.